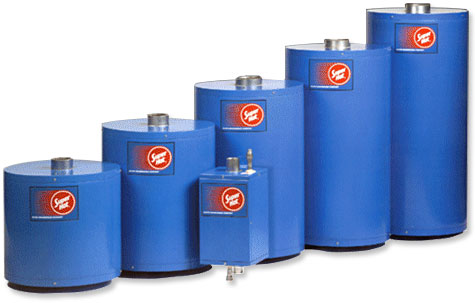 Engineered by SUPER HOT to provide DOMESTIC HOT WATER or POOL HEATING in commercial, industrial and residential applications.
SUPER HOT's Tankless Coil heats water indirectly and instantaneously by using boiler supply water as the heat source.When boiler supply water flows into the tankless coil, our unique "whirl-pool" design generates a turbulent stirring action to optimize the exchange of heat from the boiler water, through the finned copper tubing, to the domestic or pool water inside.Available in sizes ranging from 2.5 to 25 gpm.
EFFICIENT & ECONOMICAL
The heat exchanger is constructed from finned copper tubing designed to maximize heat transfer. Ambient temperature standby losses are virtually eliminated because there is no stack, flue or storage tank. A tankless coil saves energy by only heating the amount of water which will be used immediately.
CLEAN WATER
Provides instantaneous CLEAN hot water 24 hours a day… up to 25 gallons per minute. No rust or sediment will collect in the copper coil and contaminate your domestic water (a common occurrence in direct fired water heaters).
LONG-LASTING
Long-life copper tubing used on the service connection prevents corrosion problems. Domestic or pool water is heated inside the copper finned tube by boiler water in an enclosed system. The design avoids electrolysis caused by fresh water and ensures many years of maintenance free hot water.
EASY INSTALLATION
Compact design saves space and makes handling a breeze. Simple piping connections allow for quick and easy installation, saving you both time and money.
3 YEAR WARRANTY PROTECTION
SUPER HOT Tankless Coil Water Heaters are protected for 3 years against all defective parts and fabrication, effective from the date of purchase, when used under normal operating conditions. See printed warranty details.
Specifications
Heat Exchanger Sizing Calculator Opens new window.
Domestic Water Heating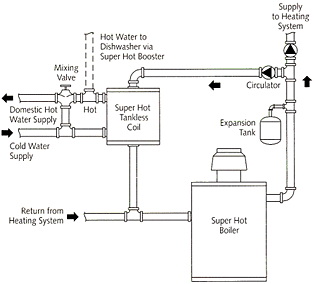 Pool Heating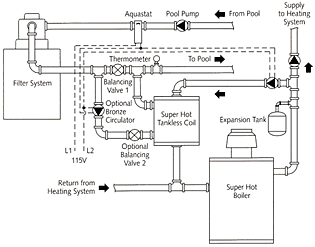 Optional: The Bronze Circulator and Balancing Valve 2 may be omitted if the Pool Pump is correctly sized (i.e. the total Pool Pump head must include the Tankless Coil pressure drop.)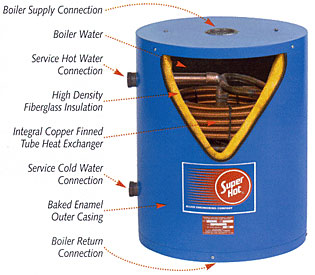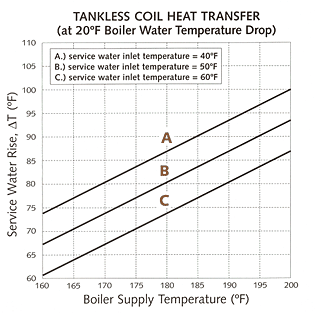 MODEL NUMBER
WATER CONNECTIONS
DIMENSIONS
SHIPPING WEIGHTLBS.
SERVICE
BOILER
HEIGHT
DIAMETER
in
mm
in
mm
in
mm
in
mm
CX 20
1
25
1
25
5 3/4
146
7
178
8
C 2.5
1/2
13
1 1/4
32
13 3/4
349
7 1/2 sq
191 sq
26
C 5
3/4
19
2
51
15
381
16 1/4
413
65
C 10
1
25
2
51
20
508
16 1/4
413
90
C 15
1 1/4
32
3
76
25
635
16 1/4
413
115
C 20
1 1/2
38
3
76
30
762
16 1/4
413
145
C 25
1 1/2
38
3
76
35
889
16 1/4
413
165
NOTE: Ratings based on 100°F rise in service water (40-140°F) and 20°F drop in boiler water (200-180°F).
Service Bulletins
Remember that warranties are only valid if a warranty card is filled out and returned to Allied Engineering by the home owner. Online registration is available at our Product Registration Section of the website.