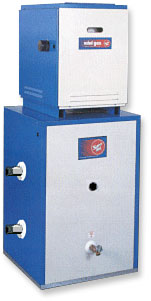 __ 

Enjoy the comfort of a state of the art hydronic heating system

__ Compact Design: A small 24″ x 24″ footprint saves valuable floor space. Ideal for closet installations.

nbsp;
___Includes:
___– Mini Gas hydronic heating boiler
___– Indirect-fired 40 gallon stainless steel hot water tank
___– 5 Sizes ranging from 50,000 to 150,000 BTU
Specifications

Standard Models
Input BTUs
A*
B*
C*
D*
Max. 1st Hr
Performance
65°F Rise
(Gallons)
SSC 50/40
50,000
6.25
74.0
4.0
11.5
115
SSC 75/40
75,000
6.25
74.8
5.0
 14.5
153
SSC 100/40
100,000
6.25
74.8
5.0
17.5
191
SSC 125/40
125,000
7.00
76.8
6.0
20.5
229
SSC 150/40
150,000
7.00
76.8
6.0
23.5
268
*Dimensions in inches. Clearances: Side 2″, Front 6″ and Back 2″.
*Additional clearances required for piping. ** Custom sizes also available.
HEATS YOUR HOME EFFICIENTLY
Uses a powerful Mini-Gas® hot water (hydronic) boiler, rated at 85% efficiency.
PROVIDES AN ABUNDANT SOURCE OF DOMESTIC HOT WATER
The indirect fired stainless steel heat exchanger generates up to five times the amount of hot water compared to a direct-fired water heater.
ATTRACTIVE COMPACT DESIGN
A small 24″ x 24″ footprint saves valuable floor space. Ideal for closet installations.
ELIMINATE EXTRA VENTING
Delivers higher efficiency compared to a conventional system with a separate water heater and hot water boiler.
E-Z HANDLING AND INSTALLATION
The boiler and tank are shipped separately in two lightweight packages, making the Space- Saver Combo easy to handle on the job site. The pre-wired boiler installs quickly on top of the tank and features a zone control board for easy electrical hookup.
ATTRACTIVE SPACE-SAVING DESIGN
Approved for closet installations
SPECIAL SUPER HOT FEATURES
Exclusive Zone Control Board
Extensive Mini-Gas® Boiler Package
Custom Pump Adapter
High Grade Stainless Steel Burners
Durable Baked Enamel Case
CONVENIENT COMPONENT CONSTRUCTION
Boiler & Water Tank can be handled separately for ease of shipping and installation.
MINI-GAS® BOILER
Natural gas or propane
84.6% Energy efficient (CSA steady state)
C/W automatic vent damper
Optional electronic ignition
EFFICIENCY PLUS WATER HEATER
Extra Long-life Indirect Fired Stainless Steel Tank
Large capacity 40 US gallon tank
High Recovery Rates
Service Bulletins
This notice is to inform that changes have been made to the MG and SG Series gas boilers electronic ignition pilot assemblies (January 2013). This change affects the following models in both natural gas and propane.
MG SERIES: MG-50-E, MG-75-E, MG-100-E, MG-125-E, MG-150-E
SG SERIES: SG-135-E, SG-180-E, SG-225-E, SG-270-E, SG-315-E, SG-360-E, SG-450-E
Since the pilot bracket and hood angle has changed, replacement pilots for these models must
be ordered and replaced as an assembly including the bracket and pilot supply tubing.
When ordering a replacement pilot, please use the following descriptions:
Pilot Assembly – MG – Universal
Pilot Assembly – SG – Universal

For more details contact your local sales representative.
If you have any questions regarding this bulletin, please do not hesitate to contact Tony Woo at tony@alliedboilers.com or 604-929-1214.
MG and SG boilers are using a new integrated control.
The advanced Honeywell control includes electronic spark ignition, post and thermal purge and limit rated water temperature control. Simple programming and LED display aid quick installation and is 2012 NRCAN / DOE compliant.
Please note:
Operating setpoint (SP) equals Hi-limit setpoint (HL)
Adjust (HL) to control boiler water supply temperature
HL factory set to 180°F
Electrical Cut Off (ECO) limit is set to 230°F
Remember that warranties are only valid if a warranty card is filled out and returned to Allied Engineering by the home owner. Online registration is available at our Product Registration Section of the website.