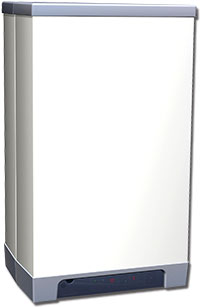 SUPER HOT INTERGAS WALL HUNG, HIGH-EFFICIENCY GAS BOILER WITH COMBINATION CENTRAL HEATING AND DOMESTIC HOT WATER
The HSE125 and HSE145 are new wall hung condensing combination boilers that do more for less. As among the most versatile heating appliances on the market, it combines domestic hot water and central heating in a single compact unit. HSE is the Heating, Smart, Efficient solution. The HSE uses proven condensing technology with a unique double high efficiency heat exchanger performing at up to 95% AFUE. As an ENERGY STAR® appliance, it is eligible for most government and utility rebates. Reliability, high efficiency, economical design and a 10 year heat exchanger warranty are just a few of the reasons why it is the smart choice for builders and home owners alike.
TRUE COMBINATION HEATING SOLUTIONS
GREEN: 95% AFUE AND A DOUBLE HIGH EFFICIENCY HEAT EXCHANGER
DURABLE: COMBINATION DESIGN HAS FEWER PARTS FOR LONGER LIFE
ECONOMICAL: SIMPLE PIPING AND HOT WATER INCLUDED WITH NO DIVERTER VALVE; FITS ANY BUDGET AND QUALIFIES FOR TOP REBATES
FLEXIBLE: TWO FULLY MODULATING MODELS WITH A SMART CONTROLLER AND INTEGRATED DOMESTIC HOT WATER
LOW PROFILE: WHISPER QUIET OPERATION IN A LIGHT WEIGHT, WALL-HUNG DESIGN
MADE FOR THE HOME: 1/2″ GAS AND DOMESTIC CONNECTIONS
NRCan Qualification for HSE Condensing Boilers
ENERGY STAR Qualification for HSE Condensing Boilers
Features
The unique double high efficiency heat exchanger uses copper waterways in an aluminium block for maximum heat transfer. The sophisticated controller with outdoor air sensor constantly monitors environmental changes and modulates according to specific heating and domestic water demands. With proven technology and up to 95% AFUE, you can take comfort in the warmth, and environmental and cost savings with one of the most advanced heating appliances available.
UNLIMITED APPLICATIONS
Two fully modulating condensing models for residential and light commercial applications: central heating, hot water, or both – with integrated domestic hot water and priority for indirect tanks, all in a low profile, wall-hung boiler.
ENVIRONMENTALLY FRIENDLY
The smart HSE design does more with fewer parts and operates at up to 95% efficiency with near 0 standby losses and a 5:1 turndown ratio. A state-of-the-art production facility reduces overall environmental impact making it the green choice for heating.
DEPENDABLE PERFORMANCE
A proven, double high efficiency heat exchanger has fewer moving parts offering long lasting service. Dual all-copper waterways protect the heat exchanger from internal corrosion and are glycol compatible.
EASY INSTALLATION
Trouble-free installation with simple piping and DHW kits, integrated hot water, 85ft CPVC, SS, and PP venting options and a user-friendly controller, reduce setup time and costs.
DOUBLE HIGH EFFICIENCY HEAT EXCHANGER
A multi-pass heat exchanger with dual copper waterways allow all heating to be done in a single, compact and cost effective unit. No need for diverter valve, pump, hot water plate exchanger, or air pressure switch.
REDUCED MAINTENANCE
The minimalist design with convenient access to internal components and few moving parts reduces maintenance costs and offers ease of service – all backed by a 10 year heat exchanger warranty.
Specifications
HSE-125-N
HSE-125-P
HSE-145-N
HSE-145-P
Fuel
Nat. Gas
Propane
Nat. Gas
Propane
Nom. Input (MBH)
28.7-124
33-145
AFUE
95%
94%
See technical information in download section for complete details
Service Bulletins
The HSE High Efficiency Boiler is approved for multiple venting options including Stainless Steel, CPVC, Polypropylene single wall and Concentric.
Concentric options include M&G / Duravent and Centrotherm.
See the latest manual for details or contact our technical support team for assistance.
Remember that warranties are only valid if a warranty card is filled out and returned to Allied Engineering by the home owner. Online registration is available at our Product Registration Section of the website.